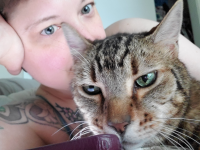 Alexis McCauley
After spending a number of years working in healthcare, my passion for writing was rekindled through the coursework I have been taking to complete my English degree. Many of my writings have collected encouraging feedback, driving me to look for opportunities that better use, and can refine these restored passions and abilities.
Expertise I create original, emotional content that connects deeply with a diverse audience.
Skills Working as a mentor for ASU's Writing Studio has strengthened my ability to assess, edit and revise my own work through the comprehensive analysis required of me when coaching students on creating and revising their own writing projects.
Location Seattle, Washington